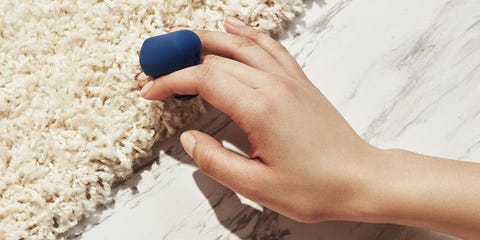 As a sexual health writer, I have this an incredible job perk: I get sent a lot of sex toys. From your traditional Rabbit vibrator to a necklace that doubles as nipple clamps, I've seen it all (and my roommates are endlessly entertained by my consistent flow of discreetly packaged goodies). However, as a Certified Lesbian™ this fun perk can actually be totally frustrating, because roughly 85 percent of what I receive mimics a cis-man penis.
While it's very entertaining to receive flesh-colored dildos in the mail, I am wildly uninterested in actually using them. Finding a queer-specific toy that isn't trying to recreate penis-vagina sex is like trying to find a needle in a haystack—it's there, but you have to dig through a lot of fake penises, I mean hay, to find it.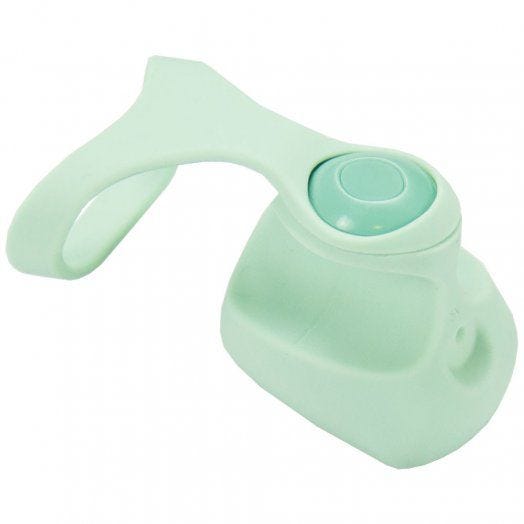 Enter the greatest toy of all time, created by woman-owned Dame Products: Fin. Fin is the sweet, sweet vibrator every clitoris needs. Shaped kind of like a flat shark fin, this pocket-sized vibrator packs a punch. It fits between two fingers and has an optional finger tether so you can get fancy without losing your grip. It has two sides (a flat squishy side and a pointier, harder side), to cater to whatever kind of stimulation you're into. Plus, it boasts three speeds, and a surprisingly long (rechargeable!!) battery life.
It's super easy to use, since there's only one button and its perfectly-sized little body makes it great for beginners and advanced players alike. It's also waterproof, which is truly excellent because ya girl loves a good bath.
I'm also a fan of Fin's versatility. I can use it by myself and with my partner, either as foreplay or as an addition to our entire play time. It doesn't ever get in the way and its subtle mint green (or peach) color is refreshingly unobtrusive.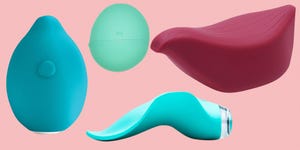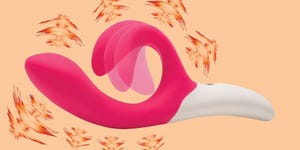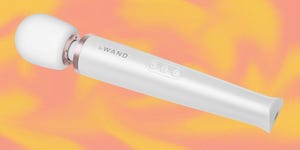 Fin is simple and effective, and could look like an eraser or a fidget toy or something totally not sexual—so if you're worried about your parents (or roommates) accidentally finding your vibrator, this is a terrific non-phallic solution.
But perhaps its greatest quality of all is it doesn't pretend to be anything but exactly what it is. It turns my fingers into a vibrator for me to work my lesbian magic with, and it doesn't ever try to tell me that I need a penis or penetration to have and enjoy good sex.
I will say, Fin is not a steal. It costs $75, which is solidly mid-range for high-quality vibrators. But if you can, it's worth the investment. Fin is a great starter toy for those just exploring the sensation of vibrating masturbation, while remaining equally exciting for partnered sex.
Whether you're gay, straight, bi, poly, queer, questioning, or literally any other sexuality and you have a clitoris, try this cutie out. And may I recommend bringing it in the bath. Seriously, you'll thank me later.
Source: Read Full Article