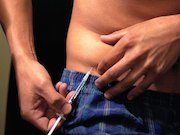 FRIDAY, June 29, 2018 — Human insulin is as safe and effective as newer, more expensive insulin analog drugs for people with type 2 diabetes, researchers report.
The new study included people with type 2 diabetes who were followed for an average of 1.7 years after they started using insulin.
"We found that for patients with type 2 diabetes in usual practice, the use of the more expensive insulin analogs did not appear to result in better safety — at least as defined by hospital or emergency visits for hypoglycemia — or better blood sugar control," said lead author Dr. Kasia Lipska. She is an assistant professor of medicine at Yale School of Medicine.
"This suggests that many people with type 2 diabetes should consider starting with [human] insulin, instead of insulin analogs, especially if cost is an issue for them," she added in a Yale news release.
About 25 percent of people with type 2 diabetes eventually require insulin to control their blood sugar.
According to study co-author Andrew Karter, "For decades, people initiating insulin treatment were prescribed human insulin. Then in the 2000s, a new generation of long-acting insulin analogs emerged that were designed to mimic human insulin." Karter is a senior research scientist in Kaiser Permanente's division of research.
Lipska explained that "the problem is that insulin analogs are much more expensive" than human insulin.
A vial of insulin analog costs about $200 to $300, compared with $25 for a vial of human insulin. In the United States, the cost of analog insulin tripled between 2002 and 2013, the study authors noted.
Previous research by Karter showed that higher out-of-pocket costs make diabetes patients less likely to take prescribed medicines.
"The cost differential between analog and [human] insulins is huge, up to a 10-fold difference," Karter said. "Some people with type 2 diabetes may find the potential benefits of insulin analogs worth the additional cost. But we found no population-level evidence to suggest that the extra expenditure is warranted for most people with type 2 diabetes, particularly when the high cost could prevent some of them from getting the treatment they need."
The study was published June 23 in the Journal of the American Medical Association.
More information
The University of California, San Francisco has more on types of insulin.
Posted: June 2018
Source: Read Full Article