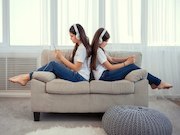 TUESDAY, July 17, 2018 — There is a modest, but statistically significant, association between higher frequency of digital media use and subsequent symptoms of attention-deficit/hyperactivity disorder (ADHD) among adolescents, according to a study published in the July 17 issue of the Journal of the American Medical Association.
Chaelin K. Ra, M.P.H., from the University of Southern California Keck School of Medicine in Los Angeles, and colleagues conducted a longitudinal cohort study involving students in 10 high schools. A total of 2,587 adolescents who did not have significant symptoms of ADHD at baseline were followed for a median of 22.6 months.
The researchers found that a mean of 3.62 baseline digital media activities were used at a high-frequency rate. Overall, 54.1 percent of students reported high frequency of checking social media, the most common media activity. There was a correlation for high-frequency engagement in each additional digital media activity at baseline with a significantly increased odds of having ADHD symptoms across follow-up (odds ratio, 1.11). After covariate adjustment, this correlation persisted (odds ratio, 1.10). The mean rate of having ADHD symptoms across follow-up was 4.6 percent for the 495 students who reported no high-frequency media use at baseline versus 9.5 percent for the 114 students who reported seven high-frequency activities and 10.5 percent for the 51 students who reported 14 high-frequency activities.
"More frequent use of digital media may be associated with development of ADHD symptoms; further research is needed to assess whether this association is causal," the authors write.
Abstract/Full Text (subscription or payment may be required)
Editorial (subscription or payment may be required)
Posted: July 2018
Source: Read Full Article