Sydneysiders are flocking to brunch in records numbers as cafes and restaurants go to extraordinary lengths to attract customers.
Nader Issa is deploying large dollops of colour in the foodie arms race. Seventeen thousand flowers line the walls and ceiling of his Social Hideout cafe in Waterloo, iced drinks are served in golden bathtubs and blow torches ignite caramelised bananas.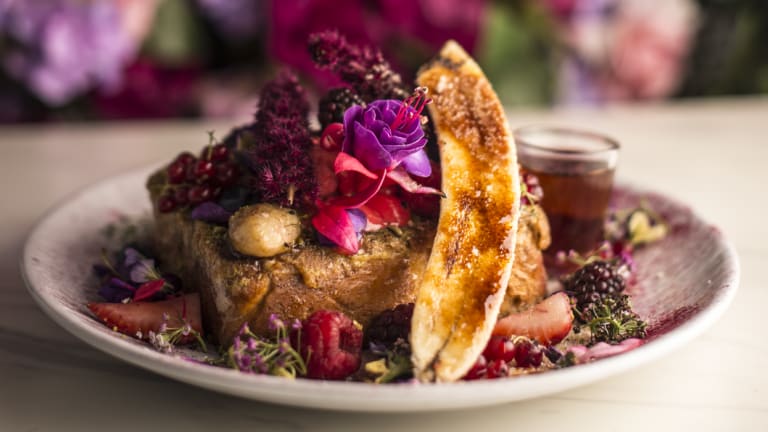 Brunch is taken to the next level at the Social Hideout in Waterloo, which is decorated with 17,000 flowers.Credit:Wolter Peeters
"As soon as you put the plate on the table, the eyes pop out and the cameras are out straight away," Issa said. "I just wanted to 'wow' everyone.
"You've got to do something quirky, something unique that no one's got. It can't be the same old repetitive thing all the time. So I'm always tweaking and finding something different."
Brunch, the late morning meal generally served from 10am until 2pm, has experienced a "resurgence" over the past two years, according to the NDP Group, which monitors food service industry market trends.
The number of people stepping out for brunch grew by 12 per cent in 2017. This was followed by a further 3 per cent growth this year. At the same time the rest of the foodservice industry only grew by 1 per cent.
As a result, even established Sydney restaurants are trying their hand at the meal that was once the domain of daytime cafes.
"We always joked we should do a breakfast or brunch degustation," Brent Savage, owner of fine-dining restaurant Yellow in Potts Point, said. "But 10 years ago that just didn't seem like a reality."
Customer requests persuaded Savage to introduce a five and seven course tasting menu for brunch, including matching wines or juices.
The variety on offer is paralleled at Efendy, a Turkish restaurant in Balmain, where the breakfast menu consists of a share platter of 30 delicacies served on a long wooden board.
Efendy's Turkish brunch platter includes 30 delicacies to share.Credit:Wolter Peeters
"It's more to the eye. There are so many things on the table, and generally [customers] can't finish it," chef Ozge Kalvo said.
But the newest arrival on the bruncher's menu is bottomless booze: an American tradition of serving unlimited alcohol alongside a meal for a fixed price during the day.
Online searches for "bottomless brunch" in Sydney barely registered on Google's radar until 2017, but have risen constantly since then.
Geraint Coles, the owner of Panama House in Bondi Beach, attributes the popularity of the alcohol in the late morning to Sydney's changing nightlife.
"When the lockout laws came in, I said you would see a big uptrend in brunch," Coles said. "There's less of a big night out on a Saturday, people save themselves more for the day.
"People have a bloody Mary to start, then they switch to mimosas, then a couple glasses of rose. That flexibility really allows us to stay competitive."
With its catchment area having stretched from Bondi to the eastern suburbs and then further afield, brunch is quickly becoming Panama House's main affair.
"It's overshadowed dinner of late," Coles said.
"Even if [nightlife] reopens and everything goes back to the old days, I don't think the brunch trend is going to go away now. I think it's a much bigger part of Sydney's culture."
Source: Read Full Article