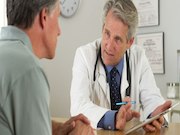 FRIDAY, June 29, 2018 — A three-pronged approach to prehabilitation, which includes improving nutritional status, exercise capacity, and worry reduction, may improve outcomes after cardiac surgery, according to a study published online June 27 in the Canadian Journal of Cardiology.
Rakesh C. Arora, M.D., Ph.D., from the University of Manitoba in Winnipeg, Canada, and colleagues discussed the use of prehabilitation as an approach to improving functional capacity and enhancing postoperative recovery in older cardiac surgery patients.
The researchers note that preoperative improvement of baseline physical, nutritional, and mental status has been reported to improve postoperative outcomes and enhance recovery after cardiac surgery in some studies. A three-way approach to prehabilitation that is targeted toward improving nutritional status, exercise capacity, and worry reduction might ameliorate the postoperative outcomes and alleviate surgical stress-related deconditioning, thereby facilitating perioperative management. Although some evidence supports the effectiveness of prehabilitation, these programs are not widespread. The conceptual framework for successful integration of prehabilitation intervention into clinical practice could be on the basis of a Promoting Action on Research Implementation in Health Services framework, which targets efficient integration of evidence-based practices.
"Recent information suggests that high-risk, frail cardiac patients might derive benefits from a strategy targeted toward enhancing preoperative care with a goal of improving nutritional status, functional capacity, and reducing anxiety during the preoperative period [to] enhance the postprocedure recovery process," the authors write.
Several authors disclosed ties to the pharmaceutical and medical device industries.
Abstract/Full Text (subscription or payment may be required)
Posted: June 2018
Source: Read Full Article