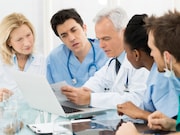 MONDAY, Aug. 6, 2018 — A "power gap" between doctors and nurses contributes to poor communication that puts hospital patients at risk, a new study contends.
To learn more about communication breakdowns between the two groups, researchers recorded doctor-nurse interactions at the University of Michigan Health System. Doctors and nurses were then asked to critique the videos together.
Hospital hierarchy is one cause of poor communication, the researchers found. Nurses are at a power disadvantage, and many are reluctant to be direct with doctors, according to study author Milisa Manojlovich, a professor of nursing.
The videos revealed that nurses weren't straightforward in their requests to doctors. As a result, doctors often ignored their requests and moved on to the next item on their to-do list instead of seeking clarification.
Another problem: Nurses and doctors have very different approaches to patient care, Manojlovich said in a university news release.
As an example, she recalled a patient with mouth pain from a fungal infection called thrush. The patient couldn't swallow the pills to treat it. The doctor wanted to prescribe more medication to treat the infection, but the nurse wanted to give the patient strong painkillers as well.
The study also found that nurses' and doctors' body language mimicked each other when communication was good, but was not in sync when it was poor.
"One physician said, 'I didn't give the nurse a chance to answer,' and this physician had a habit of doing that and recognized it," Manojlovich said. "She was one of the champions of the study."
Manojlovich wants to record a larger group and to use the videos as training tools to improve communication between doctors and nurses.
The study was published online recently in BMJ Quality & Safety.
More information
The U.S. Agency for Healthcare Research and Quality explains how patients can help prevent medical errors.
Posted: August 2018
Source: Read Full Article