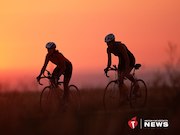 MONDAY, July 23, 2018 (American Heart Association) — A road trip across the country is a someday dream for many Americans. Pedaling the roughly 4,000 miles from coast to coast adds an epic aspect to the adventure.
"When I was a kid, I met a guy in a bike shop whose bike was loaded down with bags," said Craig Miller, an avid cyclist who co-hosts a popular sports radio show on KTCK in Dallas. "He told us he was riding from California to New York. I thought that sounded like the coolest thing I'd ever heard. I couldn't believe that under his own power he was going coast to coast."
Miller recently did just that, although not by himself. He was part of an eight-man relay team that completed the annual Race Across America in seven days, seven hours, with one of them on the bike all the time.
"I dipped my toe in the Pacific and dipped my hand in Chesapeake Bay," he said. "It's an incredible sense of accomplishment."
Thousands of people get that feeling every year, traveling on their own, in groups, on guided tours — or in sections, completing the trek over a period of years.
It's not a new idea. In 1884 — this is not a misprint — an Englishman named Thomas Stevens rode a penny-farthing, an old-fashioned bike with one enormous wheel and one tiny one, clear across the continent.
According to his memoir, Around the World on a Bicycle, "The first essential element of success is to have sufficient confidence in one's self to brave the criticisms — to say nothing of the witticisms — of a skeptical public."
The trip involved lots of railroad tracks, canal towpaths and rugged open country, and Stevens had to walk about a third of the way. But 104 days after leaving San Francisco, he rolled into Boston.
The ocean-to-ocean ride is still a big challenge, but it has gotten easier. A national system of bike-friendly roads offers several recommended routes, though cars often share the pavement.
And the U.S. Bicycle Route System is rolling toward an ambitious goal of 50,000 miles of specially marked and mapped routes to take cyclists across the country and to many points in between.
"We're building an interstate network that can take advantage of the best bike routes out there," said Virginia Sullivan, director of Travel Initiatives at the Adventure Cycling Association. Like the interstate highway system for cars and trucks, she said, "We want to make it as easy as possible for cyclists to travel the country just by following route numbers."
The 53,000-member nonprofit organization, headquartered in Missoula, Montana, dates from the mid-1970s, when the founders fashioned a TransAmerica Trail for cyclists to mark the 1976 "Bikecentennial."
That prompted Adventure Cycling to research bike routes around the country and publish guides recommending cyclist-friendly paths and roads, scenery and attractions, and other advice for getting around America on two wheels. Its network now encompasses over 46,000 miles of bike routes throughout the country and three preferred paths — northern, central and southern — stretching coast to coast.
The next step is even more ambitious. Teaming with the American Association of State Highway and Transportation Officials, Adventure Cycling is spearheading the U.S. Bicycle Route System, which designates state-certified bike routes that will forge a national network.
Sullivan said the effort was inspired by comprehensive bike networks in Europe and Great Britain, and spurred by the growing popularity of cycling and the development of local and regional bike routes.
"The idea is to integrate them into an officially numbered and signed national network," she said. "Cyclists are not just looking for low-traffic roads and wide shoulders, but access to services and accommodations. We're finding that small towns are especially welcoming. They realize that cyclists come through and spend money."
Since the national corridor plan launched in 2010, the USBRS has grown to nearly 12,000 miles in 25 states and the District of Columbia, with numbered routes and road signs every few miles. Adventure Cycling has just hired a full-time USBRS coordinator to accelerate the push to involve the remaining states and build the 50,000-mile network.
"We're thrilled with what we've accomplished so far, and we really think we can complete this in the next few years," Sullivan said. "If it inspires somebody to get on their bike and make their heart a little healthier, then we've done our job."
After finishing his frenetic cross-country trip, Miller looks forward to a more leisurely transcontinental ride when he has more time. In the meantime, he's on his bike nearly every day.
"It's the same feeling I had as a kid," said Miller, who's 51. "An incredible feeling of freedom and adventure and exploration. It keeps me fit, but mostly it's just a blast. Whether it's a five-mile ride or 50, it's just a blast."
Posted: July 2018
Source: Read Full Article