You know that feeling when you're trying on a new dress, and then you realize…it has pockets! Done. Sold. I'll take one in every color.
It's common knowledge that adding pockets to anything automatically makes it better. Obvi, that applies to workout leggings, too.
As if leggings weren't versatile enough already, the addition of pockets makes them all the more functional. You never have to worry about forgetting your keys, cards, or cash anywhere again. And if you need to Uber home from a long-run gone wrong, NBD, because your phone is right there with you.
Of course, your leggings still need to be breathable, comfortable, sweat-wicking, and snug in all the right places. Your high school soccer sweatpants have pockets, but I wouldn't exactly recommend working out in them.
So whether you're looking for a versatile black pair or a more look-at-me now option (or something in between)—I've got you covered. Give your thighs and derriere the attention they deserve while still having a place to store all your stuff with these options.
1. Best Overall Leggings With Pockets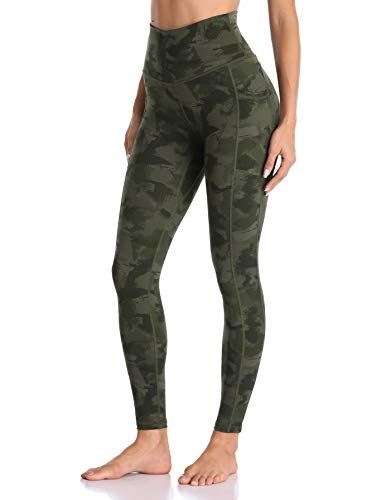 Coming in 24 different colors and designs, these leggings are a simple and affordable option that you can wear from you fave workout class to coffee with friends.
Average Review: 4.7/5
Number of Reviews: 5,360
Rave Review: "These are my holy grail leggings: soft, seamless waist, squat proof, flattering, not too long on my legs, and it has pockets!"
2. Best High-Waisted Leggings With Pockets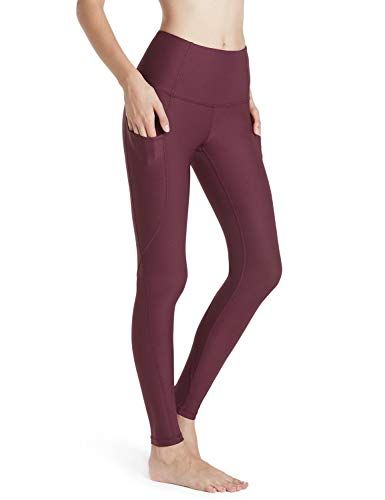 Looking for a basic legging with the higher rise? These are for you. The wider waistband is designed NOT to roll down every time you bend over and the pockets are just a bonus.
Average Review: 4.3/5
Number of Reviews: 2,746
Rave Review: "I am absolutely in LOVE with these leggings. I usually go for black leggings but decided to change it up and got these. So glad I did; they are easily my favorite pair I own (and I own a lot!). The high waist is appreciated and the fit was perfect! Highly recommend!"
3. Best Leggings With Pockets For Long-Distance Running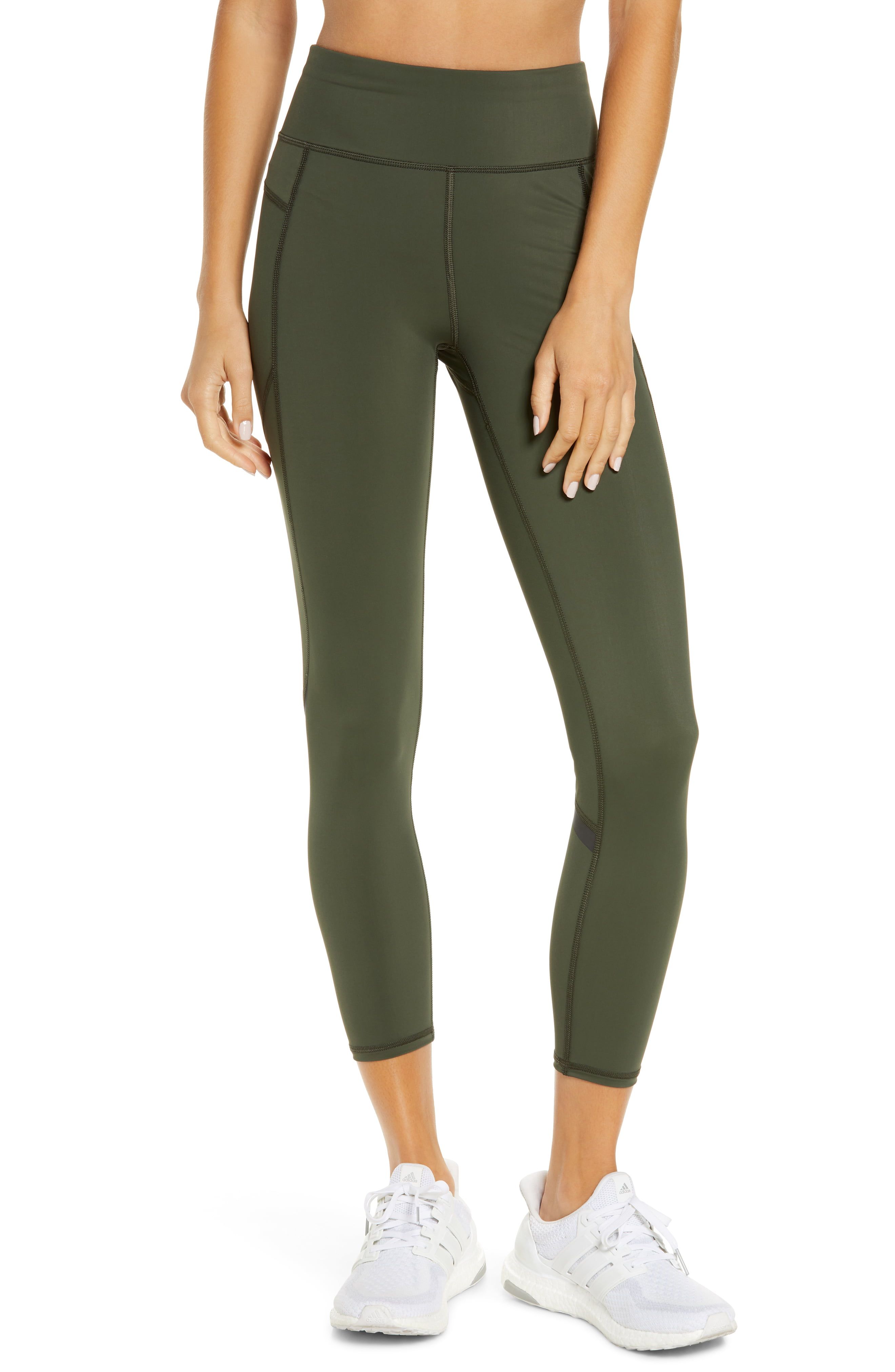 Created with a small waistband pocket in the back and a deeper one on the side hip, these sweat-wicking leggings are perfect for putting in miles.
Average Review: 4.7/5
Number of Reviews: 3,165
Rave Review: "Great leggings! I have a few pairs and love them for everything from hiking to the gym. Great pockets, can fit my phone in both the leg pocket and back zip pocket. Worth every penny and last ages."
4. Best Bright-Colored Leggings With Pockets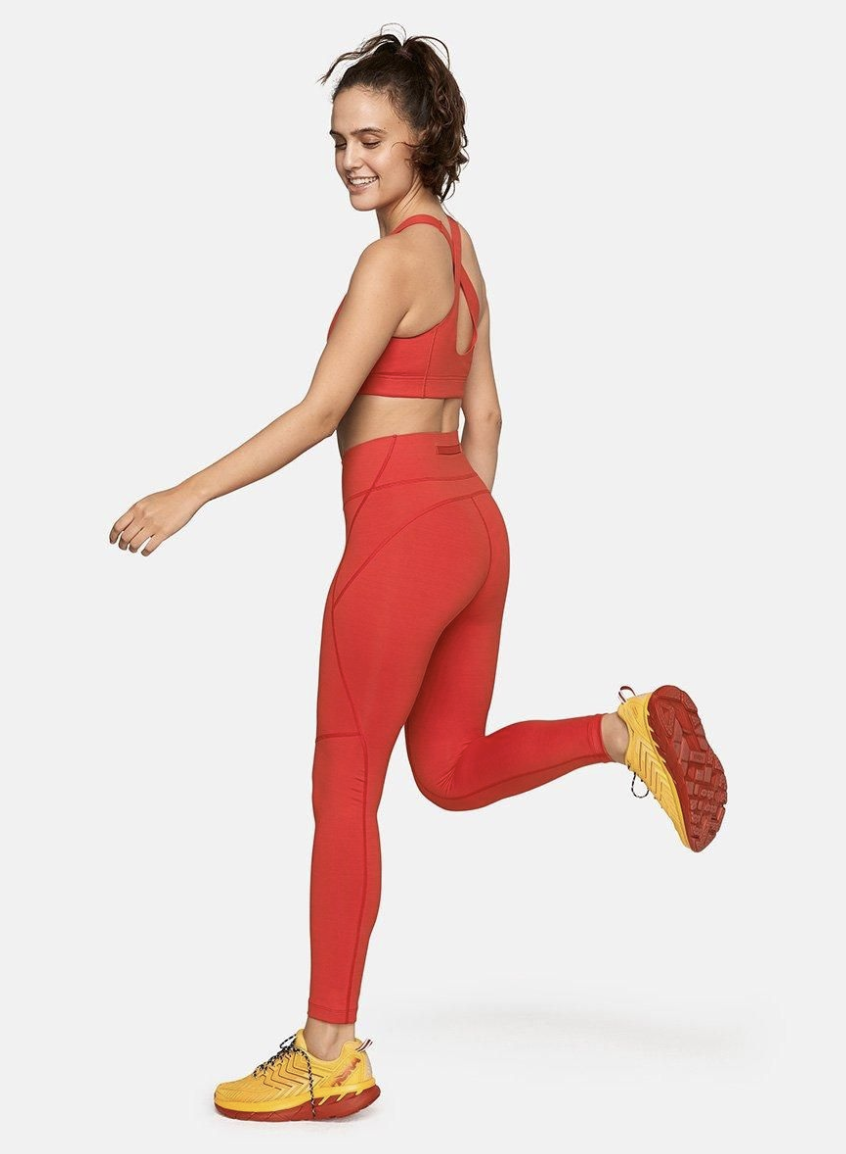 Designed with a pocket in the the back of the waist band, these leggings are made to help you carry your essentials discretely and with ease while you exercise.
Average Rating: 4.75/5
Number of Reviews: 192
Rave Review: "Oh my goodness, I can say hands down: [these are] the best leggings I have ever owned for high-intensity and high impact exercise!! The core band keeps these leggings perfectly situated with no need to adjust and leaves me more confident than ever when wearing them."
5. Best Leggings With Pockets For Warmer Weather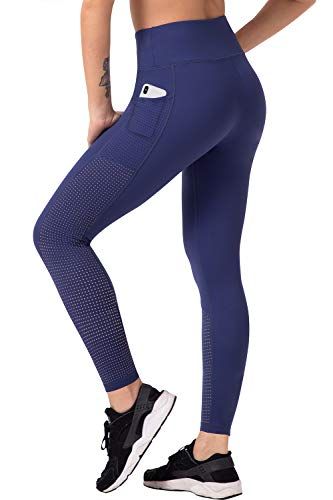 Designed using a mesh panel and breathable, moisture-wicking fabric, these leggings were made to keep you cool on hot summer days. Plus, with a thin, extra layer of fabric lining the pockets, your stuff will stay dry while you sweat it out.
Average Review: 4.4/5
Number of Reviews: 621
Rave Review: "I LOVE these pants! I'm a big girl: 5'8 and 260 lbs. I have a hard time finding leggings that aren't see through, are long enough, and are high waisted. These leggings are all those things and are wonderful. The pockets are sewn so your phone doesn't weigh your pants down (had that happen before) and the moisture-wicking design is really great and comfortable."
6. Best Value Leggings With Pockets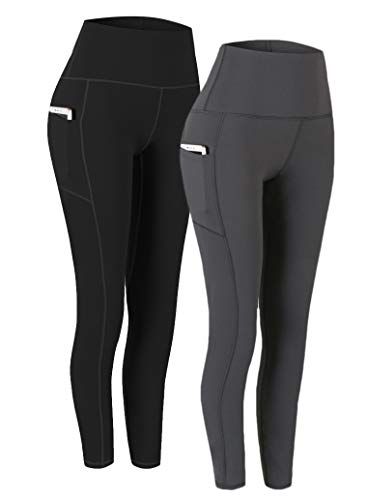 Yup, you read that right, you can get two pairs of leggings with pockets for less than $50. Plus, the pockets are big enough to hold all your stuff, not just a credit card or key.
Average Review: 4.7/5
Number of Reviews: 4,847
Rave Review: "I love these! They fit true to size, the pockets are roomy enough for my Note9 and the waistband holds them up with my phone in the pockets, but it doesn't cut into my waist painfully at all. One of my favorite pair of leggings."
7. Best Cropped Leggings With Pockets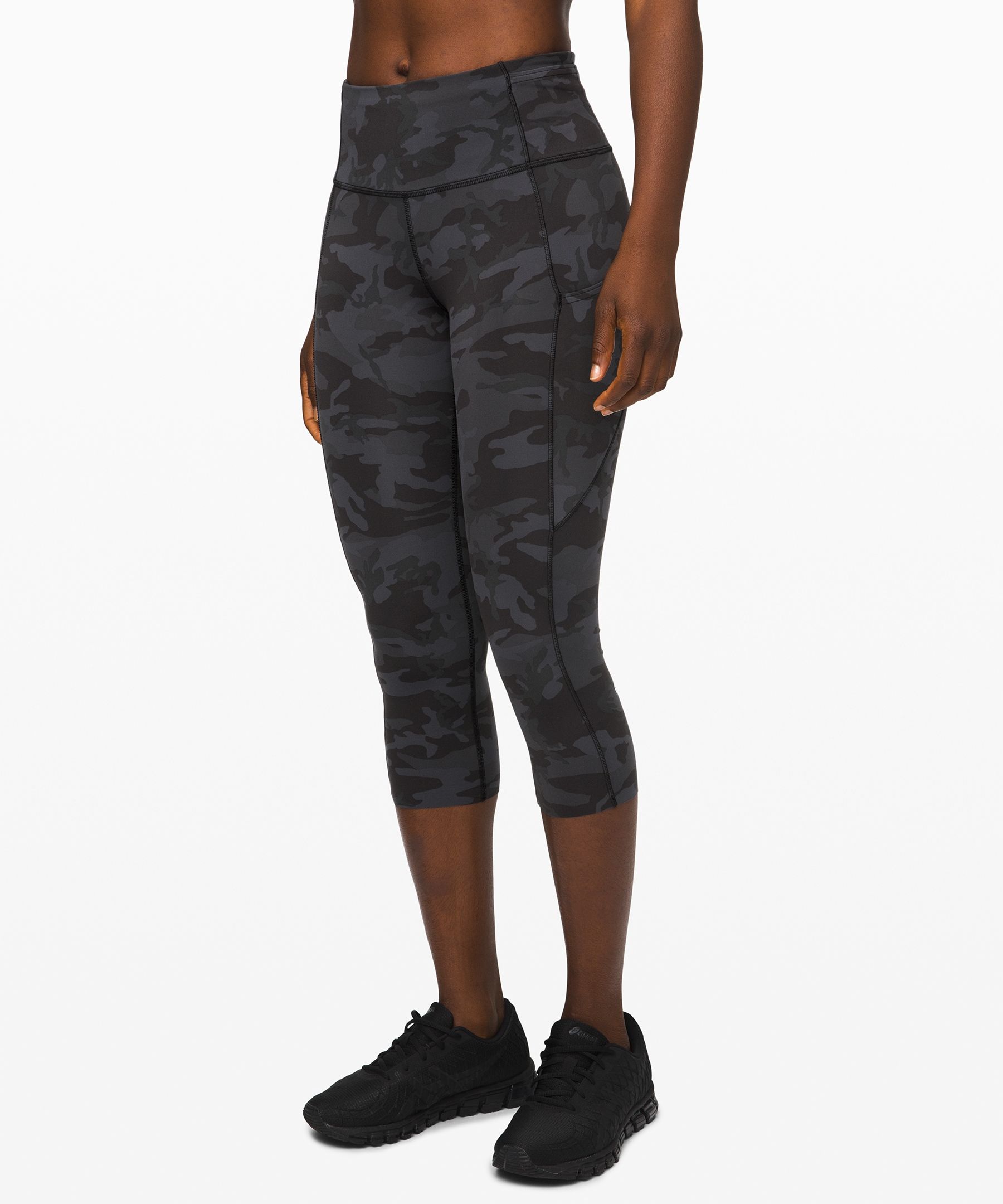 These workout pants boast the performance tight trifecta: They're lightweight, moisture-wicking, and quick-drying. Better still? They come with three pockets (two on the sides, and a discreet one in the waistband).
Average Review: 4/5
Number of Reviews: 223
Rave Review: "These are perfect! Light weight, all the pockets you need, and stay tight during workouts and runs."
8. Best Adjustable Leggings With Pockets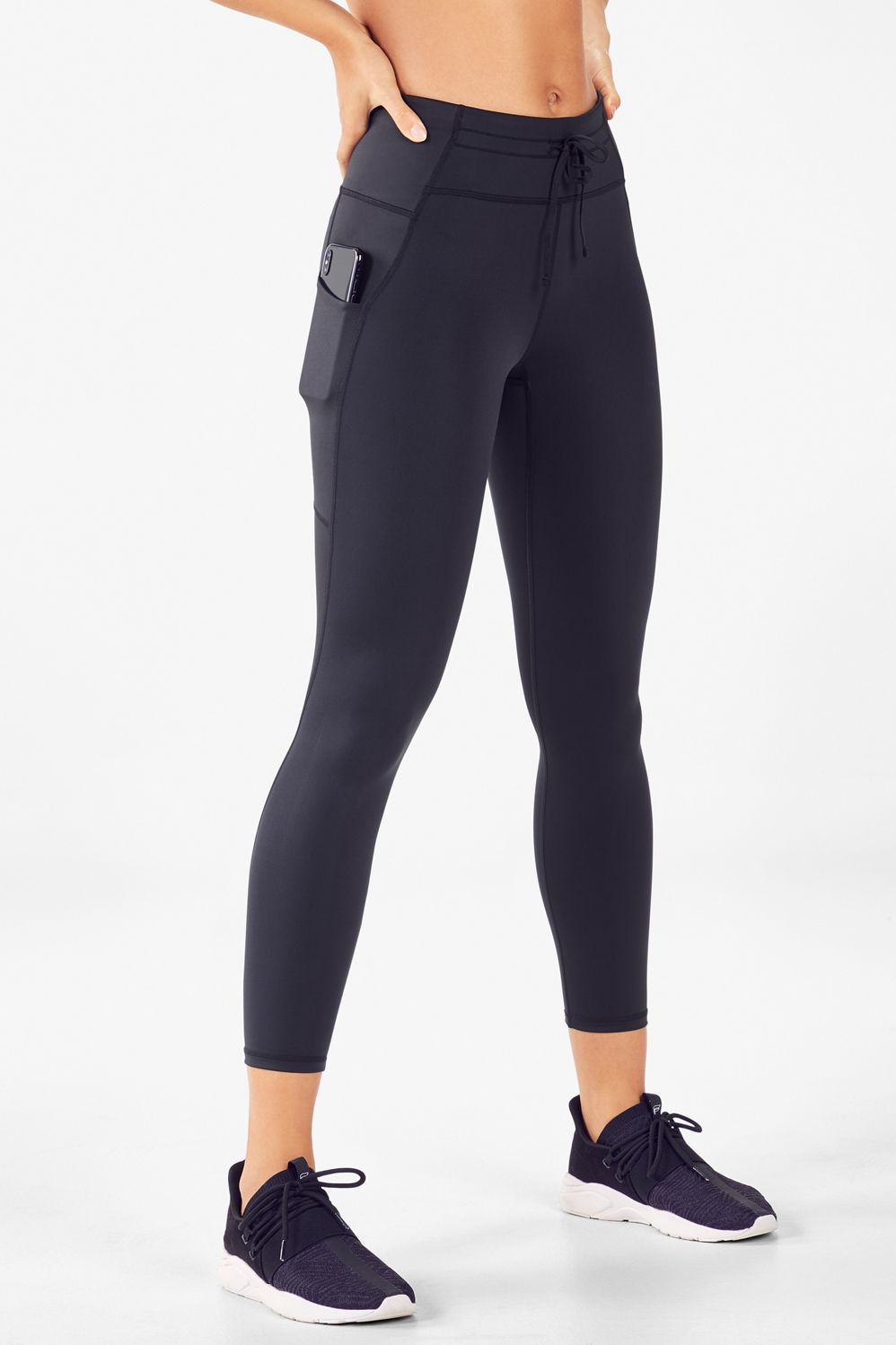 These ultra-cool leggings from Fabletics not only had two large side pockets, but also an adjustable waist. Make your leggings as tight as you need, and never worry about the weight of your phone pulling your leggings down again.
Average Review: 4.5/5
Number of Reviews: 535
Rave Review: "I'd highly recommend these Fabletics bottoms to a friend!! The cropped ankle hits my leg/ankle PERFECTLY being I have short, scrawny legs and I prefer cropped bottoms to help my legs appear longer. definitely a win-win in my book!"
9. Best Leggings With Pockets For Cold Weather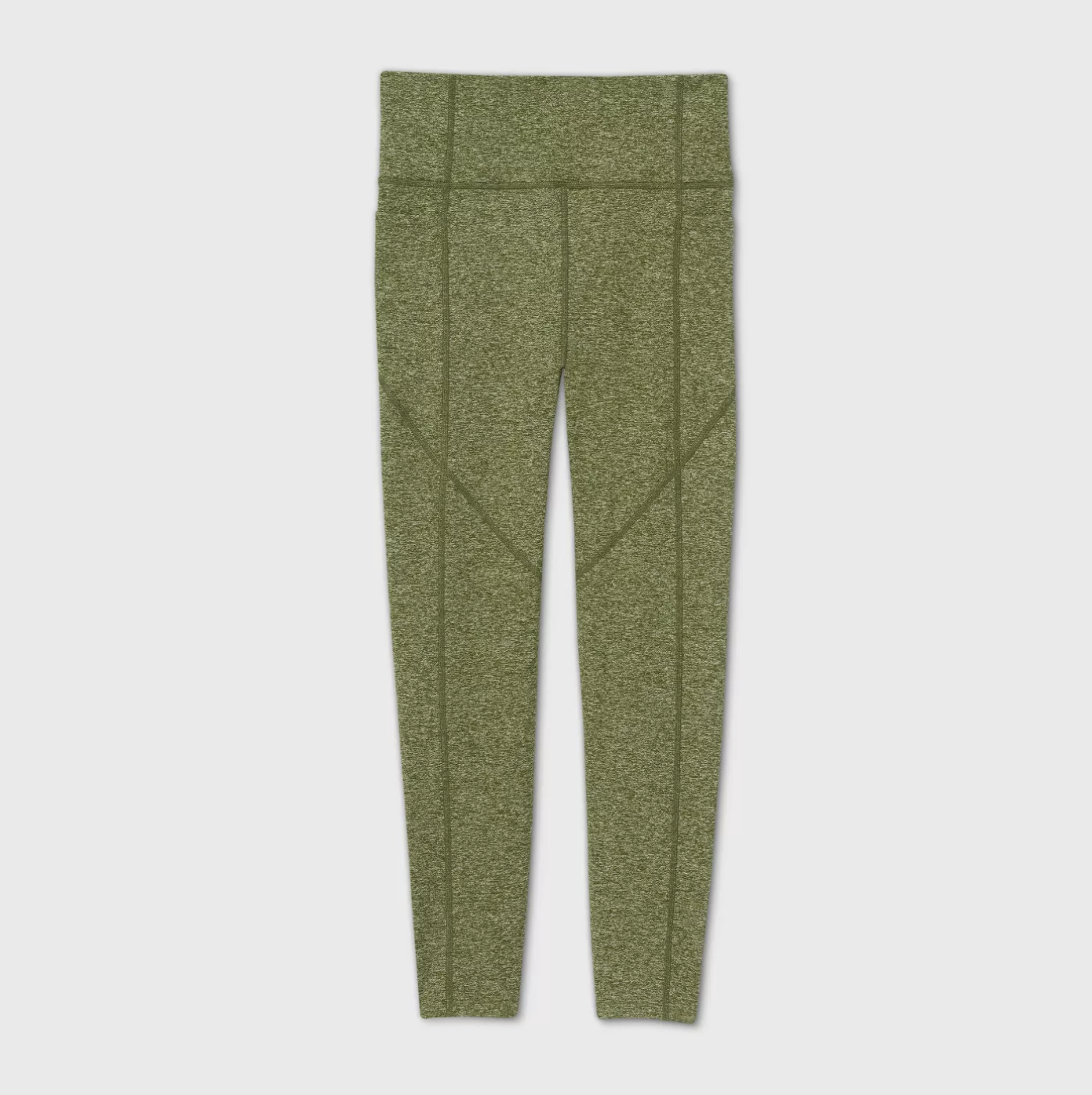 For outdoor exercise when the temps aren't so hot, opt for something with a slightly thicker fabric like these from Joylab. Plus, with pockets on both legs, you'll be able to carry everything you need from your keys to an extra set of hand warmers.
Average Review: 4.8/5
Number of Reviews: 69
Rave Review: "The most-comfortable workout leggings I've ever worn. So soft and buttery. They're not compression, but I was still able to wear them running, no problem. I ordered the other color because I love them so much."
10. Best Bold-Patterned Leggings With Pockets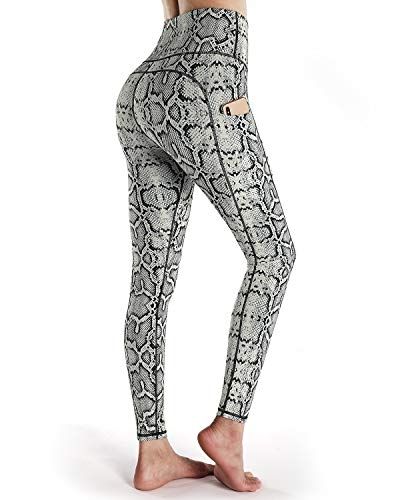 These snakeskin print legging are a great way to add a little pizzazz to your workout or athleisure wardrobe, without sacrificing the ease of pockets.
Average Review: 4.3/5
Number of Reviews: 672
Rave Review: "I love wearing leggings; however as a mom, I hate not having pockets. Finally an answer! I'm going to buy every color. I am 5'1 and 138 lbs. I went with a medium but will probably try a small next time. The medium fits, but I do have some room. These are thick and stretchy like athletic leggings. I've worn them dressed up with boots and a sweater, but I've also worn them dressed down with a hoodie and sneakers."
11. Best Leggings With Pockets For Running Errands

With over 14,000 reviews on Amazon, these soft, black leggings are the perfect thing to throw on when you have a million and one things to do, and can't worry about changing your outfit or where to put your phone.
Average Review: 4.7/5
Number of Reviews: 15,089
Rave Review: "I've been searching for a LONG time on Amazon for the perfect leggings. I wanted high quality like the expensive Lululemon or P'tula without spending a lot of money. After returning many leggings from other sellers, I came across these. I work out a lot and have tried many leggings, and these by far are the most comfortable to work out in! They def pass the squat test, are not see through at ALL, and have convenient pockets that I didn't think I needed but love."
12. Best Leggings With Pockets For Low-Impact Workouts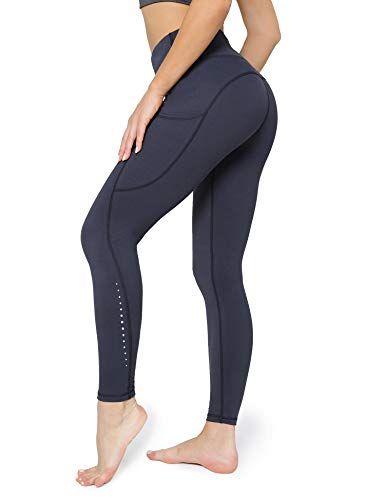 Coming in blue, black, and gray, these leggings are the perfect option for anyone who likes to keep their workout style simple.
Average Review: 4.6/5
Number of Reviews: 556
Rave Review: "I am absolutely obsessed with these leggings. I have bought a lot of leggings. These are my favorite. They're super stretchy with an appropriate amount of compression"
13. Best Leggings With Pockets For Holding Lots Of Stuff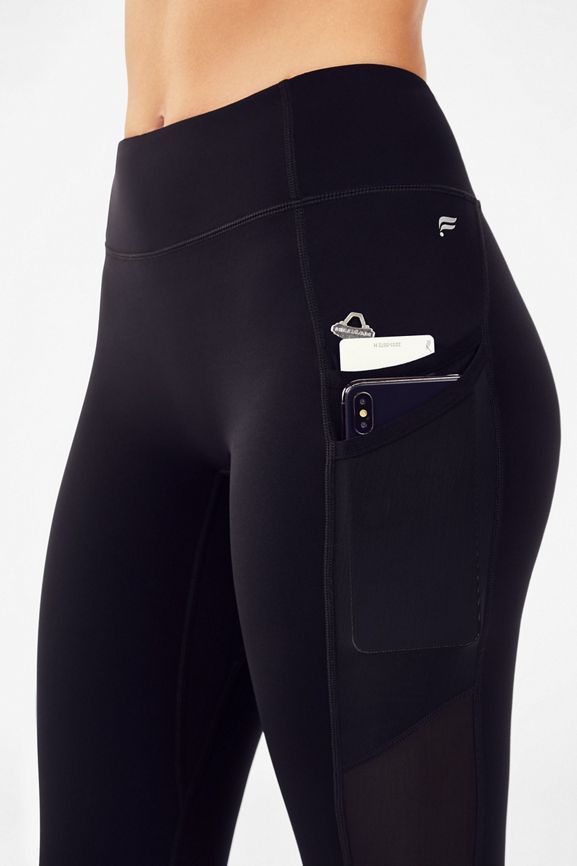 Don't like putting your phone, money, and keys all together in one large side pocket? I get you. These leggings have a small pocket inside of the big one, so you can store your smaller items separately.
Average Review: 4.6/5
Number of Reviews: 10,551
Rave Review: "LOVE LOVE LOVE THESE LEGGINGS!!! Perfect for working out or everyday activities. It's starting to heat up and it's nice when I am working to have leggings that are breathable, flexible, and have multiple places to store keys phone."
14. Best Animal Print Leggings With Pockets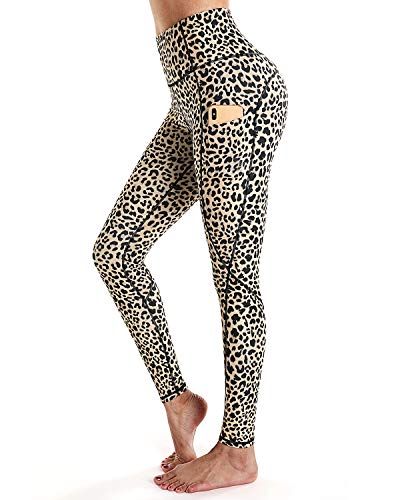 With two large side pockets and a small inner-waistband pocket, you'll be able to store everything you need.
Average Review: 4.4/5
Number of Reviews: 632
Rave Review: "I was really impressed by these leggings. They are super figure-flattering without making you feel like you are suffocating in them. They're so comfortable when working out but also I lounge in them as well. I've been wearing them all day. I even took a nap in them. My favorite part was the pockets though. I have a Samsung Note 9 and Note 10 and both fit. I also was impressed that it had the big, long pockets on both sides not just one."
15. Best Butt-Lifting Leggings With Pockets
Not only do these leggings have pockets, but they are also designed to give your bum a lil extra sculpting, too. Talk about the perfect pair of leggings, amirite?
Average Review: 4.1/5
Number of Reviews: 576
Rave Review: "Wow, I am in total disbelief about how great these leggings are! I just got them yesterday and I've already ordered more. For years I've spent hundreds of dollars on leggings at Lululemon and I've sworn by them. But I wanted to try these because I have a teeny tiny, almost non-existent butt and I was looking for some leggings to enhance my ASSets (pun intended)."
16. Best Leggings With Pockets For All-Day Wear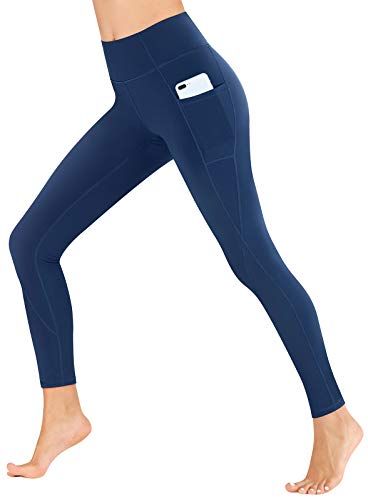 With 17 different solid color options, throw these leggings on in the morning when you know you won't have time to come home and change. Whether you wear them with a hoodie and sneakers or a sweater, they will help you get through the day with ease.
Average Review: 4.7/5
Number of Reviews: 4,130
Rave Review: "I absolutely love these yoga pants from the feel of the fabric, fit, color, and functionality! I've used them for running and working out. For my run and workout they stayed in place and I didn't have that uncomfortable sweaty feeling because they were definitely breathable. And for running errands throughout your day, the pockets are a plus so you can have your phone"
17. Softest Leggings With Pockets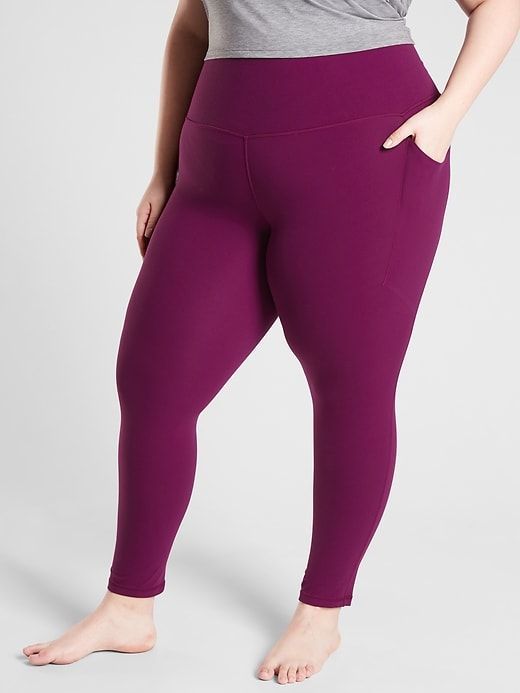 Made with a buttery soft material, these leggings will be your new go-to. While you may not need the pockets during downward dog, you'll be happy to have them when you wake up early for a workout class and only have the brain power to grab your essentials.
Average Review: 4.6/5
Number of Reviews: 1,417
Rave Review: "I love these tights! I have them in multiple colors. I use them for walking, workouts, tennis, paddle tennis, biking, you name it. The slash pocket is roomy enough for a phone or a tennis ball. I'm hooked!"
18. Most-Secure Leggings With Pockets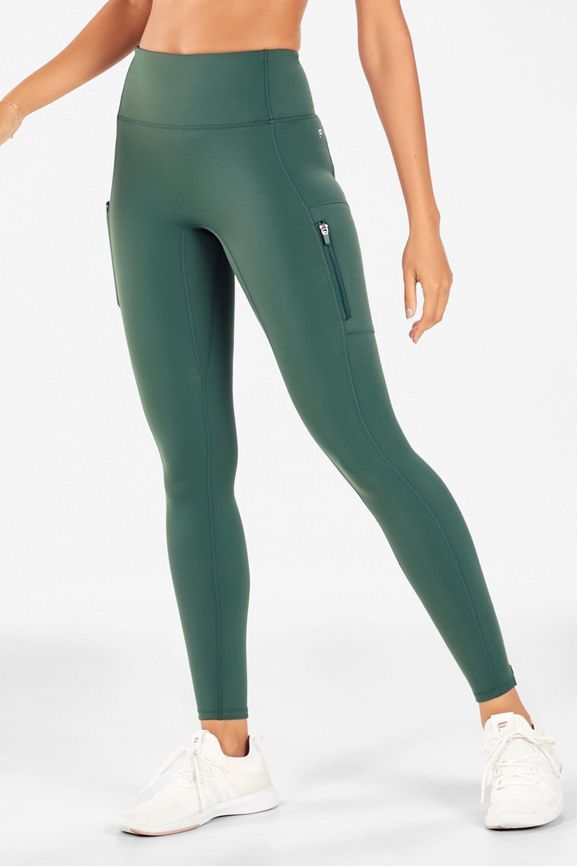 Never worry about your valuables falling out again because this pair of leggings has a large side pocket that zips for extra security.
Average Review: 4.5/5
Number of Reviews: 6,147
Rave Review: "I absolutely love these leggings—they are my favorite attire for running. All the pockets are so useful for carrying your phone, keys, and running gels—there is enough room for everything! They also kept me really warm during the cold Philadelphia winter!"
19. Best Leggings With Extra-Large Pockets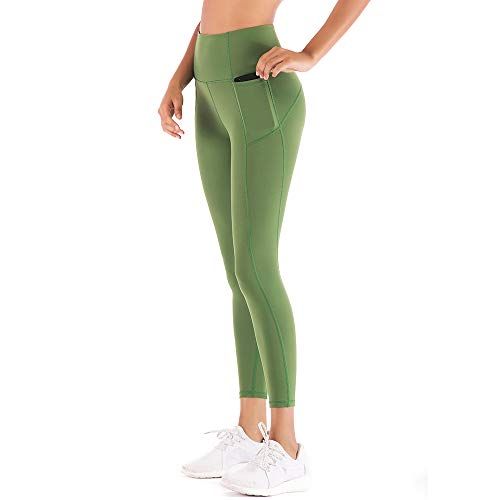 Designed with the pockets toward the front, rather than on the sides, these leggings are the solution for those of you who want to stow more stuff…without being weighed down.
Average Review: 4.3/5
Number of Reviews: 357
Rave Review: "I just received the leggings and already love them so so much! I was a little skeptical at first because there were only five-star reviews, but I'm really glad I gave it a try. I was having a hard time finding a workout leggings with large pockets to hold my iPhone Plus. This one has large enough pockets on both sides and they are so deep. I'm glad that I don't need to worry about my phone and keys coming out of pockets when I run."
20. Best Leggings With Pockets For Hiking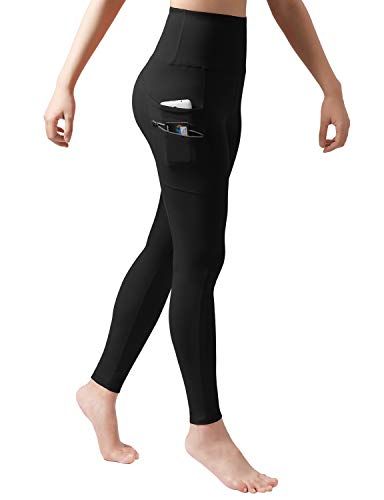 With four pockets total, two of them with zippers, these workout pants are perfect for hitting the trails. While you'll probs still need to bring a running backpack or hydration vest, these leggings will make it easy to keep snacks easily accessible.
Average Review: 4.5/5
Number of Reviews: 732
Rave Review: "I've been buying Ododos leggings for over two years and they have been high quality and long-lasting so far. I run, CrossFit, weight lift, and do yoga. These leggings hold up! For reference, I'm 5'4″ with an athletic build, and I always teeter between medium and large. I got the medium and the top fits perfectly and snuggly at my natural waistline. A tiny bit of rolling down, but not enough for me to complain about. There are FOUR pockets on these leggings; two with zippers and two without. I will definitely be buying more."
Source: Read Full Article