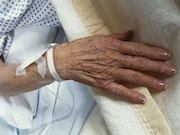 WEDNESDAY, June 27, 2018 — People believed to have a penicillin allergy are often prescribed much stronger antibiotics that can raise their risk for dangerous infections, a new study suggests.
But testing folks to make sure they really are allergic to penicillin could lower that danger, the researchers added.
"We know that more than 95 percent of patients with an indication of a penicillin allergy in their medical record are found not to be truly allergic, if tested by an allergist," said study lead author Dr. Kimberly Blumenthal. She's with the division of rheumatology, allergy and immunology at Massachusetts General Hospital in Boston.
In the study, Blumenthal and her team analyzed millions of outpatient primary care medical records for British citizens, to assess rates of MRSA (methicillin-resistant Staphylococcus aureus) and Clostridium difficile infections.
Compared to patients without a penicillin allergy, those whose medical records indicated a penicillin allergy had a 69 percent higher risk of MRSA and a 26 percent higher risk of C. difficile.
The increased risk of both infections remained after the researchers accounted for other known risk factors for the infections.
More than half the increased MRSA risk and 35 percent of the increased C. difficile risk could be attributed to broad-spectrum antibiotics that are prescribed to people believed to be allergic to penicillin, according to the researchers.
They explained that broad-spectrum antibiotics target a wide range of bacteria, but can increase the risk of antibiotic resistance and of dangerous infections by killing off beneficial bacteria in the gastrointestinal tract.
"Our study identifies appropriate penicillin allergy evaluations — which is still done in less than 1 percent of patients with recorded penicillin allergy — as an essential contributor to the globally important outcomes of antibiotic stewardship, reducing antibiotic resistance and health care-associated infections," Blumenthal said in a hospital news release.
"Both MRSA and C. difficile infections are increasing public health burdens, are challenging to treat, and cause the deaths of thousands of patients every year," she noted.
"We now can see a causal path from patients being labeled as having a penicillin allergy, to their being prescribed beta-lactam [broad spectrum] alternative antibiotics, to greater incidence of these dangerous and costly infections," Blumenthal said.
She added that MRSA and C. difficile each "cost our health care system more than $1 billion in direct costs annually, so the modest cost of penicillin allergy evaluation — around $220 per patient — seems greatly worthwhile."
The study was published June 27 in the BMJ.
More information
The American Academy of Family Physicians has more on antibiotics.
Posted: June 2018
Source: Read Full Article