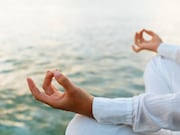 TUESDAY, July 31, 2018 — More than 25 percent of older U.S. adults with diabetes use some type of complementary and alternative medicine (CAM), according to a research letter published in the June issue of Diabetes Care.
Taeho Greg Rhee, Ph.D., from Yale University in New Haven, Conn., and colleagues examined the prevalence and patterns of CAM use in older adults with diabetes using data from the 2012 National Health Interview Survey. Data were included for 1,475 adults aged 65 years or older who reported having any type of diabetes.
The researchers found that more than two million older adults with diabetes (25.0 percent) used some form of CAM in the past year in 2012. The mean age among older CAM users with diabetes was 72.4 years, and more than half (54.3 percent) were female. Biologically based therapies and manipulative body therapies were the most commonly used classes of CAM (62.8 and 36.8 percent, respectively). The most commonly used individual therapies were herbal therapies, chiropractic, massage, acupuncture, and yoga (62.8, 23.9, 14.7, 10.2, and 5.2 percent, respectively). For herbal therapies, chiropractic, and meditation, there were significant prevalence differences by reason for use.
"Patients should be educated to proactively discuss their CAM use with their health care providers, so that patient-centered care can be provided to meet the needs of older adults with diabetes," the authors write.
Abstract/Full Text (subscription or payment may be required)
Posted: July 2018
Source: Read Full Article