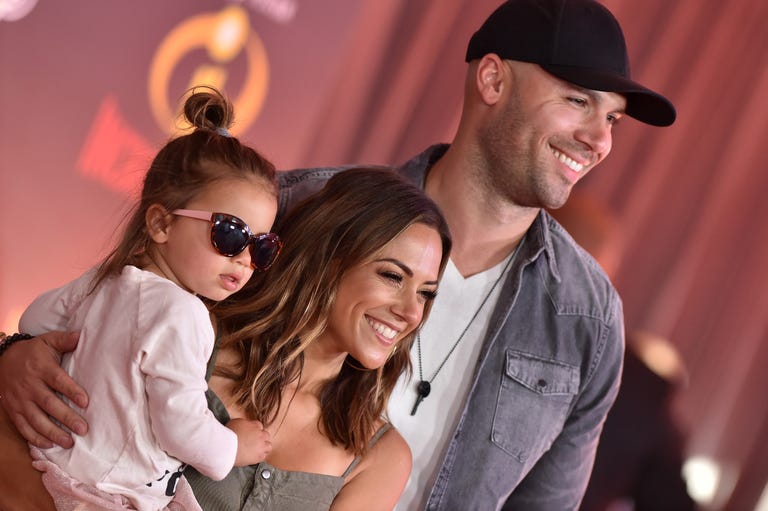 Singer Jana Kramer is pregnant with her second child with husband and former NFL player, Mike Caussin—and her first trimester has not been easy.
The couple announced they were expecting and due in November via a YouTube video and Instagram post, featuring their 2-year-old daughter, Jolie.
#Ad Surprise! We have a rainbow baby on the way & couldn't be more excited! Jolie is going to be a big sister & we're becoming a family of 4! Thanks @avawomen for helping us get pregnant by telling me my 5 most fertile days! #AvaPartner Pregnancy takes a village – Also thanks Bonjesta® (doxylamine succinate/pyridoxine HCl) 4 helping me manage my #morningsickness after diet & lifestyle changes didn't work. It's a safe & effective new formulation of the drug combination I took before that's made to work faster & longer. Most common side effect is drowsiness. For US residents only INDICATION Bonjesta® is a prescription medicine to treat nausea & vomiting of pregnancy (NVP) in women who haven't improved with change in diet/other non-medicine treatments. Bonjesta® hasn't been studied in children under 18. LIMITATIONS OF USE It isn't known if Bonjesta® is safe & effective in women with severe NVP (hyperemesis gravidarum). Women with this condition may need to be hospitalized. SELECT SAFETY INFORMATION Don't take Bonjesta® if you're allergic to doxylamine succinate, other ethanolamine derivative antihistamines, pyridoxine HCl or any ingredients in Bonjesta®. See Patient Information leaflet for complete list of ingredients. Don't take Bonjesta® in combination with medicines called MAOIs, as these medicines can intensify & prolong adverse central nervous system (CNS) effects of Bonjesta®. Ask your healthcare provider/pharmacist if you aren't sure if you take an MAOI. The most common side effect of Bonjesta® is drowsiness. Don't drive, operate heavy machinery or do other activities that need your full attention unless your healthcare provider says you can. Don't drink alcohol, or take other CNS depressants such as cough & cold medicines, certain pain medicines & medicines that help you sleep while taking Bonjesta®. Severe drowsiness can happen or become worse causing falls/accidents. Bonjesta® may result in false positive urine drug screening for methadone, opiates and PCP. More safety information on bonjesta.com. Duchesnay USA encourages you to report negative side effects of prescription drugs to the FDA. Visit www.fda.gov/medwatch or call 1-800-FDA-1088.
A post shared by Jana Kramer (@kramergirl) on
On the outside, Jana, 34, looks stunning (as per usual), but in the YouTube video she admitted to being "so sick" with morning sickness. "I will be seeing this later," she said, tilting her bowl of breakfast toward the camera.
Jana's morning sickness has been so bad that she's actually "popped a lot of blood vessels in [her] face" from vomiting, she said, adding that she just wants to be "done puking and feeling like this." (She is "down to one puke a day" though, which she credits to Bonjesta, a prescription medication to help treat nausea and vomiting during pregnancy.)
But her trying first trimester hasn't been Jana's only pregnancy issue—the singer has experienced five pregnancy losses (three miscarriages and two chemical pregnancies, as recently as October 2017 and February of this year), according to People. A chemical pregnancy is a very early miscarriage, according to the American Pregnancy Association.
For Jana, this has made her extra cautious about her current pregnancy. "It's hard because it's like 'have hope,' but when you're in that moment, hope is the hardest to fine," she said.
Jana also said that she and her husband have tried in vitro fertilization (IVF) in the past. This baby, however, was conceived naturally, as Jana tracked her ovulation with a device called the Ava bracelet (which tracks your cycle and claims to tell you when you're most fertile).
As for being a mom to Jolie during her pregnancy and morning sickness, Jana admits that she feels "like a bad mom because I just have no energy and have been puking 24/7," she said. Though, Jolie doesn't seem to be bothered by it. "She's currently watching TV right now," Jana said, as she was recording her vlog.
Jana and Mike separated for a while after he cheated on her two years ago. (Jana's been candid about how the cheating scandal was rough on their sex life.) But after years of working through therapy, the two are back together and, it seems, happier than ever.
Source: Read Full Article