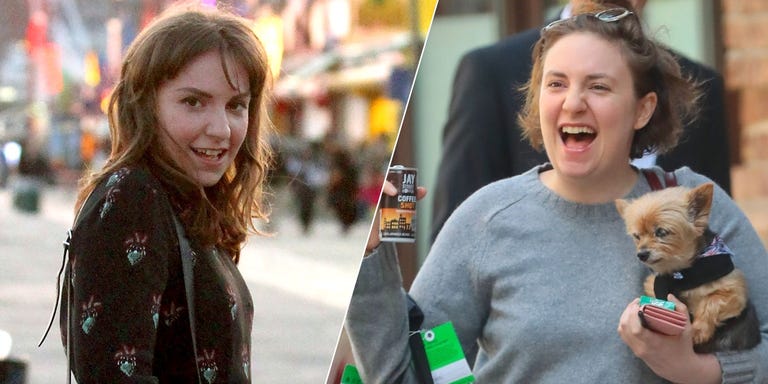 In side-by-side photos Lena shared on Instagram today, the writer, actor, and activist celebrates how she's gone from "sick in the head and tissues" to "happy, joyous, and free." The post received upward of 200,000 likes in its first hour—way more than Lena's typical Instagram cameos, which tend to rack up about 18,000 likes over the course of weeks.
More than a year has passed between the photo on the left, taken in April 2017, and the one on the right from yesterday. And although Lena references her 24-pound weight gain, she says her real journey involves all the ways she's better off today, regardless of her appearance.
Although Lena says she used to live on sugar, caffeine, and a purse full of meds, now, she wrote, her MO involves fun and healthy food, and strength derived from lifting dogs and spirits. In the shot from yesterday, she's "complimented only by people that matter for reasons that matter," she wrote—and really, what more could you ask for?
Although Lena sometimes does look at her old photos longingly, she wrote, it's only "until I remember the impossible pain that brought me there and onto my proverbial knees."
The self-proclaimed "OG body positivity warrior" has spoken out against tabloid headlines that once glorified her weight loss triggered by anxiety and health issues, which called for a total hysterectomy in February.
After being been shamed for weighing too much, losing weight, and posting underwear selfies, Lena sounds more empowered than ever, trolls be damned.
"As I type I can feel my back fat rolling up under my shoulder blades. I lean in," she wrote.
Follow Elizabeth on Instagram and Twitter.
Source: Read Full Article