Each time Ethan Brown uncoils his six-foot-five frame and snaps the rowing–machine handle to his chest, the Concept2 rower jumps back a couple inches. This action would seem more violent if Brown, 49, the founder and CEO of Beyond Meat, weren't so consistent and methodical, slowly propelling the rower across the warehouse he converted into an unofficial socially distanced employee gym at the HQ in El Segundo, California. He keeps up an aggressive 2:15/500-meter pace for 30 minutes. His cadence never relents, though he switches between an overhand and an underhand grip on alternating strokes. "It hits the arm muscles from a different angle," he says. "Sometimes I'll add side pulls to hit the obliques. But the real reason is boredom. I play around just to liven it up."
By the time Brown is done rowing, he's close to his daily active calorie-burn goal. (The same is true on days he substitutes a half hour of swimming in his home pool.) But he's just getting warmed up. Next, he tackles a 30-minute resistance workout crafted by his trainer, Cam Collins. The selection and sequence of exercises vary by design, alternating between "push" and "pull" days that target opposing muscle groups, as Collins wants to keep Brown's mind and muscles guessing.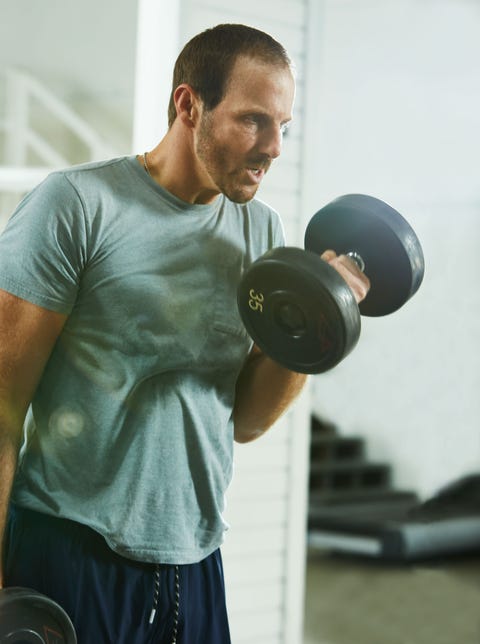 In each five-move circuit, Collins mixes in familiar moves modified with a twist (like a reverse lunge with a single kettlebell in the high-rack position) and staples like dumbbell curls and bench presses. He has Brown do one minute per station and run through four rounds at a brutal clip, with no more than 60 seconds of rest between sets. The physical exhaustion has a mental benefit: clarity. "Your focus, your brain, is sharpened," Brown says. "Better, more creative ideas come when you're working out."

Brown founded Beyond Meat in 2009, and the company now has more than
400 employees and is valued at $9 billion. He's chronically short on time—each day is packed with both push and pull. If he's not attending marketing meetings, he's discussing expansion domestically (Beyond Fried Chicken at KFC) or internationally (capitalizing on the pork shortage in China), or he's sitting in on R&D trials and taste tests. Later, after his workout, a company chef brings him a sample of the new lower-fat and lower-calorie Beyond Burger that will be in stores in early 2021.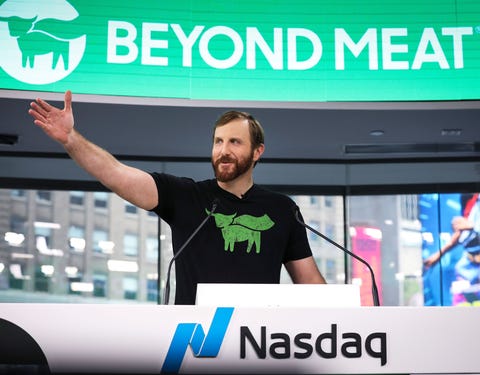 Brown needs a different sort of fitness now, because his days are so intense. "Before, it was about being competitive athletically," Brown explains. "Once I got into graduate school, I started to realize how important exercise was both for mental acuity and also mental endurance. I multitask all the time. I realized I have to work out to be as productive as I want to be."
He grew up in Washington, D. C., and College Park, Maryland, and played high school football, lacrosse, and basketball. At Connecticut College, Brown focused on hoops, a passion that brought him joy and pain. "I had five knee surgeries when I was in my 20s," he says. He has adapted his training to his problematic joints, but he hasn't given up the game. Brown still laces up with his son, JV, a sharp-shooting guard on his high school team. The previous day—Sunday, ostensibly his rest day—Brown played seven games of one-on-one against a six-foot-six Division I prospect who's on his son's team. He's showing no ill effects this morning as he runs the gauntlet Collins set: weighted situps, battle ropes, reverse lunges, and bench presses.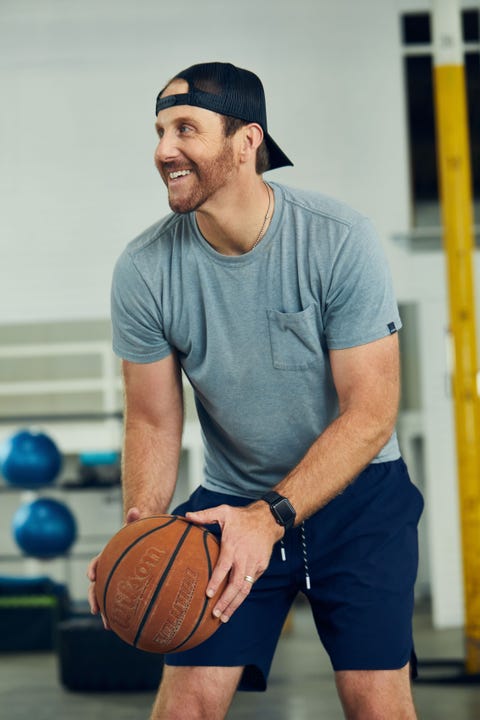 For Brown, the best approach to fighting inflammation is to avoid it in the first place. Although his reasons for going vegan 20 years ago were predominantly ethical and climate related, he says, it doesn't hurt that his diet helps him bounce back from high-impact hoops. He also always has a strawberry-banana-and-almond-milk protein shake after working out (Blend 1 cup frozen strawberries, 1 banana, 1½ cups unsweetened vanilla almond milk, and 1 scoop Vega Sport vanilla protein powder). "It was hard, but I had no swelling and I wasn't sore," Brown says. "So I'm able to play seven games at 49 and then go hard again in the morning."
THE BEYOND BURNER
Brown does this kind of circuit 6 days a week.
30 Minutes: Cardio
Row, run, or swim at the fastest pace you can maintain.
30 Minutes: Strength
Full body, split routine, alternating days between push and pull movements.
Do 1 minute per exercise, with 1 minute between sets; do 4 or 5 rounds.
Day 1—Push
Glute thrust, bench press, pushup, DB squat to thruster, and lunge.

Day 2—Pull
Dip-bar leg raise, deadlift, bent-over row, pullup, and DB curl.
BETWEEN SETS

Favorite exercise?
"Bench press is the most cathartic thing. You lift a huge weight off your chest. It's also fun because there's an element of not being sure you can do it."
Most hated exercise?
"I f*cking hate planks and burpees."
Workout tunes?
"A lot of Stones, Springsteen, and Tom Morello from Rage Against the Machine. Some old-school hip-hop, like early Jay-Z. And because I'm a D. C. guy, lots of go-go bands
like Rare Essence."
Dream workout partner?
"I've ticked some off the list, because Kevin Hart, Chris Paul, and DeAndre Hopkins are Beyond Meat ambassadors. But it'd have to be LeBron James."
Cheat meal?
"Pizza. Vegan-sausage pizza from the Slice & Pint in El Segundo. It's ridiculous. Friday night, I'll go to town."
This story appears in the January-February 2021 issue of Men's Health.
Source: Read Full Article