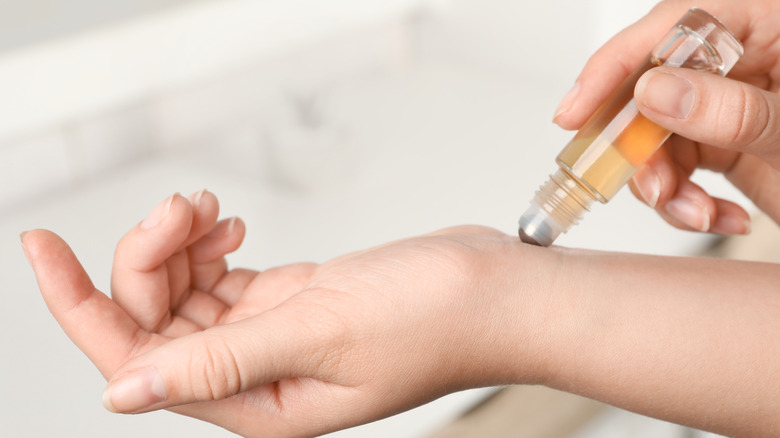 While applying an essential oil and expecting pain to disappear seems like a long shot, certain types of oils actually have powerfully soothing properties. Judging by the number of people who swear by their favorite blends, it's worth taking a look at which oils should have a permanent place in your medicine cabinet. Plus, Bustle reports, evidence supporting the pain-relieving properties of essential oils continues to increase.
These types of topical treatments often contain anti-inflammatory agents that soothe and relax pockets of tightness. The outlet notes that peppermint oil has found its stride as a remedy for irritable bowel syndrome and headaches. Healthline explains that many researchers credit the oil's ability to spur blood flow to the afflicted area with its relaxing, pain-relieving side effects. You can either apply diluted peppermint oil to any area of pain or tension, or you can opt for its capsule form. Characterized by a relaxed, almost numb sensation, peppermint oil can help alleviate painful sensations relatively quickly.
Similarly, eucalyptus generates a similar sensation of relaxed numbness. Indeed, Bustle dubs this type of oil as another anti-inflammatory, pain-reducing remedy. The outlet even cites a study's findings that pointed to the oil's ability to lower blood pressure and alleviate discomfort from people who had just undergone knee surgery.
You can add essential oils to different areas of your routine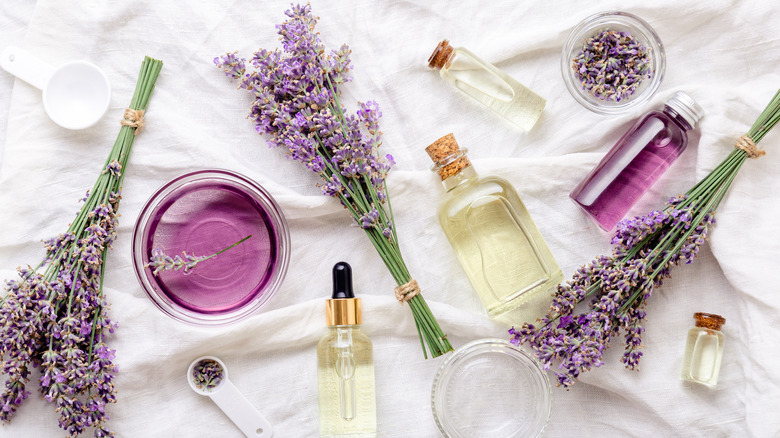 In addition to peppermint and eucalyptus, a classic lavender oil can help reduce pain as well. With analgesic properties, this scent is known to aid in the reduction of stress and anxiety, Bustle notes, but it's also been shown to alleviate pain from migraines. As for PMS symptoms, having primrose oil on hand might save you a trip to the drug store. Specifically, evening primrose oil works well with women's issues such as menopause and period pain. While more research is needed around this area, it's worth a shot.
To reap the healing benefits of these balms, start by finding a viable carrier oil to protect your skin. Since essential oils can be too abrasive to apply on their own, oils such as coconut, jojoba and grapeseed work as powerful dilluters to make it safe, but still as effective. VeryWell Health suggests using your pain-relieving oil in the bath or applying it to a compress. Once you make a hot or cold compress, add a few drops to the cloth and lay it over the affiliated area. Of course, if you purchase an essential oil blend made as a roll-on product, you don't need a carrier oil — just apply it as needed to whatever part of the body is giving you grief. 
Since essential oils are often associated with a calmer mental state, using them in your physical recovery routine could also combine their mental health benefits as well. Find your favorite and see if it provides some relief next time you have a headache, stomach disturbance or any other ailment.
Source: Read Full Article