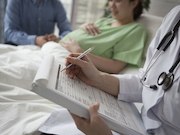 MONDAY, July 2, 2018 — Women who have high blood pressure or preeclampsia during pregnancy might be more prone to developing hypertension, type 2 diabetes and high cholesterol afterwards, new research suggests.
The emergence of these heart disease risk factors soon after pregnancy may help explain why these women have an increased risk of heart attack and stroke later in life.
"Many researchers think that pregnancy acts as a [heart disease] stress test and that it helps to identify women who are predisposed to developing high blood pressure and other cardiovascular risk factors," explained study author Jennifer Stuart. She's a postdoctoral research fellow at Brigham and Women's Hospital and the Harvard T.H. Chan School of Public Health, in Boston.
"Having this knowledge early in life gives you the opportunity to prevent and delay cardiovascular disease. It's never too late to improve your health behaviors, and a lot of the things that are recommended — such as healthy diet and physical activity — will likely benefit children and anyone else living in the home, too," she said.
Approximately 15 percent of women develop high blood pressure (gestational hypertension) or preeclampsia in at least one pregnancy, the researchers said. Preeclampsia is a complication of pregnancy that includes high blood pressure and additional problems, such as kidney or liver troubles or fluid in the lungs, according to the Preeclampsia Foundation.
The new study included nearly 60,000 women who didn't have heart disease or any known risk factors for heart disease at the start of the study. All of the women had given birth at least once between the ages of 18 and 45.
The health of these women was followed for an average of 25 to 32 years after their first pregnancy.
Just under 3 percent of the women had high blood pressure in their first pregnancy and 6.3 percent had preeclampsia in their first pregnancy, the study authors said.
The risk of chronic high blood pressure was two to three times higher for women who had high blood pressure or preeclampsia during their pregnancy, compared to women who didn't. The risk of type 2 diabetes was 70 percent higher, while the risk of high cholesterol was 30 percent higher for these women, the study found.
The risk for developing chronic high blood pressure was strongest during the five years after a woman's first birth, the researchers reported.
"It's important that this information gets passed on to primary care providers," Stuart said. "They need to be aware that this risk could present pretty soon after pregnancy, and they need to be on the lookout for and screen for these risk factors."
She added that more research needs to be done to see what screening and prevention strategies will be most helpful.
New York cardiologist Dr. Peter Mercurio said he wasn't surprised to see increased heart disease risk factors in women who've had high blood pressure in pregnancy or preeclampsia, but "the numbers are surprising, and represent a big red flag."
Mercurio said guidelines already recommend asking women if they've had high blood pressure during pregnancy. He agreed that more studies need to address how often women who've had these issues need to be screened, and identify what prevention strategies might help them most.
"This study showed that if you have high blood pressure in pregnancy, you're at risk in the first five years. I think we need to start treating women's health more holistically and adopt a team approach to health. And, the earlier, the better," he said.
The study was published July 3 in the Annals of Internal Medicine.
More information
Learn more about preeclampsia from the Preeclampsia Foundation.
Posted: July 2018
Source: Read Full Article