You may have an idea that you feel could greatly improve the medical group or hospital you work in. Whether it's an ancillary service, a new work process, a software system, or something that could save lives or perhaps make life better for you and your colleagues, it's something you feel passionate about.
But how do employed physicians get administration or key decision-makers to listen to — and agree to — their ideas? In the Medscape Employed Physician Report: Loving the Focus, Hating the Bureaucracy, 61% of physician respondents said they don't have input into key management decisions.
It may even feel like physicians in the trenches have the least input into key decisions. Here is some advice to get upper management's attention.
Find the Decision-makers
It's essential to understand who makes the decisions. In healthcare systems, there may be several committees that are the decision-makers or a complex board of administrators. Decide who to approach and at what level. Is it middle management, or do you need to go to the top?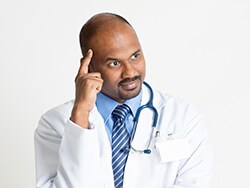 Understanding the culture is crucial to your success "The vast majority of healthcare systems are top-down, so depending on how top-down your system is, you may have a heavier load to lift," says Eric D. Newman, MD, chief innovation officer at Eon, a health data science company. Newman spent 35 years with the Geisinger Health System and retired as the director of Quality and Innovation at Geisinger's Medicine Institute in Danville, Pennsylvania.
Newman says he is uniquely qualified to give buy-in advice since he's a rheumatologist and "we are the Rodney Dangerfield of the specialty world; we have no pull. So, if a rheumatologist can do this, there's hope for anyone."
Have a Clear Message
Whether your task is to improve the quality of patient care, patient safety, patient satisfaction, efficiency, productivity, or to cut costs, you'll fail if you don't consider your administration's goals. You must convey how your idea improves operational performance and helps the organization fulfill its mission. Does it save money, save lives, or improve something? You'll have to communicate its base value effectively to get buy-in.
"Understand the message that will appeal to decision-makers' lens," says Newman.
"Are people dying? Will you save them $10 million per year? Doctors are passionate and often see things through their own eyes, but it's important to understand what others think."
Pre-Sell the Idea
Try to "pre-sell" your idea. Talk to those who may be involved in making the final decision. Approach them without trying to sell them on it. Phrase it like, 'We were thinking of something like this. What do you think might make this work?' Ask how they would handle it. If anyone brings up an objection, you can think about developing a solution, prior to making your 'big presentation.'
You may need to develop key relationships, coalitions, and clinical and business allies to aid you. And prepare for those who will be resistant to change. James Creeden, MD, PhD, whose consulting firm Creeden Consulting provides medical strategy for mission-driven healthcare companies, advises that you consider which of your stakeholders may be for or against you (or your idea) and frame initial discussions as solution-oriented fact-finding and advice-seeking missions.
Consider Feasibility
What's the impact on the patients, and how feasible or easy is your idea to implement? Talk to colleagues and get their input so you can craft a proposal that looks at all the angles and possibilities.
You may have to show key performance indicators (KPIs) to measure outcomes or develop metrics that look at milestones, timeline, and your endpoint.
For example, the Diagnostics industry struggles to establish reimbursement for many newer technologies, even after proving clinical utility, because many payers are incentivized to embrace older, cheaper technologies and disregard patient benefits, explains Creeden.
Be ready for financial or feasibility roadblocks. Gather any feedback from critics to strengthen your proposal.
Communicate Concisely
Prioritize getting your message across and the impact of having the organization understand it. "Work with peers or your boss to create a very concise message: a 30-second "elevator pitch," then a 10-slide (max) summary of the idea and impact," says Creeden. Next, meet with decision-makers briefly to convey the idea and see where they stand on the issue.
"Once you have enough interested parties, offer to present the idea at a senior management meeting to draw out others to take a stand, and ideally get a decision about going forward," Creeden tells Medscape.
Remember, your idea may be just one vying for resources and potential consideration in the political landscape of your organization.
Newman says the most significant deficits on a doctor's mind today are likely workload-related and quality-of-care–related, which can be motivating factors to effect change and bring about new ideas. "Every provider misses something minor or major at some point. All of us have experienced taking care of a patient where something was missed, and that's a strong motivator," he says.
"We don't want to miss something where the patient could die," Newman says. "Everyone wins when we bring something at that level to the attention of the decision-makers."
Jennifer Nelson is Features Editor, Reports at Medscape. Her work has also appeared at WebMD, Medical Economics, MedPage Today, as well as The Washington Post, AARP, US News & World Report, The Oprah Magazine, Women's Health and others.
For more news, follow Medscape on Facebook, Twitter, Instagram, YouTube, and LinkedIn
Source: Read Full Article