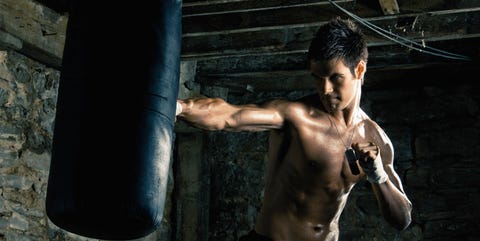 The best workouts don't just help you to get fit. You probably want to torch more than just calories—finding a routine to help you blow off some steam and burn through stress can be among the most effective motivations to stick to your plan. That's a big reason why boxing is gaining steam in the fitness world outside of the sweet science of sport.
Fight training can be rewarding, but it takes dedication—and sometimes, a ton of cash. If you don't want to shell out money for a coach or a monthly membership to a boxing gym, consider picking up a heavy bag of your own to beat on when you need to de-stress. These 10 options will allow you to swing away in the comfort of your own home—which is a much better option than trying to throw punches out in the world.
Check out these workouts to get you started once you have your home boxing setup. To add smarts to your sparring sessions, consider checking out the PunchLab app, which uses a belt that attaches to most bags and turns your phone into a digital trainer.

$74.68
SHOP NOW
This 70-pound canvas bag is a great starter for any basement ring setup. It comes filled and designed for maximum shock absorbency, with sturdy nylon straps for hanging.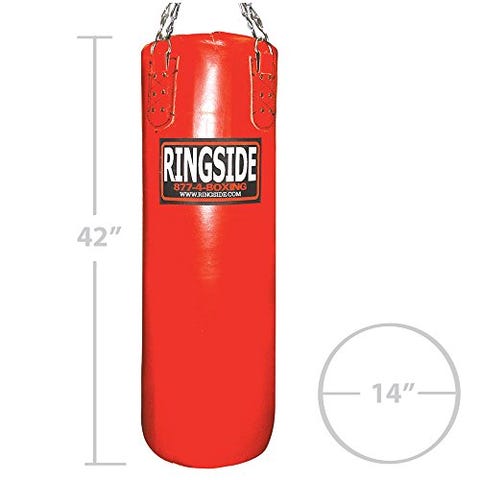 $169.84
SHOP NOW
This leather bag from Ringside offers up nothing but the basics—which is great, because that's all you really need for a good home boxing session. All you need is a sturdy ceiling mount and you'll be ready to go the distance/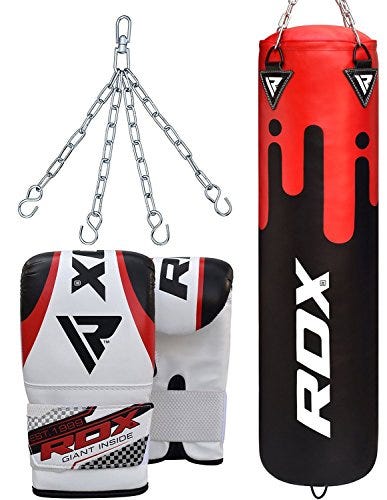 RDX
amazon.com

$93.99

$69.99 (26% off)
SHOP NOW
This heavy bag from RDX comes with a chain to hang and gloves for good measure, so you'll be able to set it up and start swinging ASAP. Just make sure to fill the bag up so you're hitting something with substance, since it comes empty.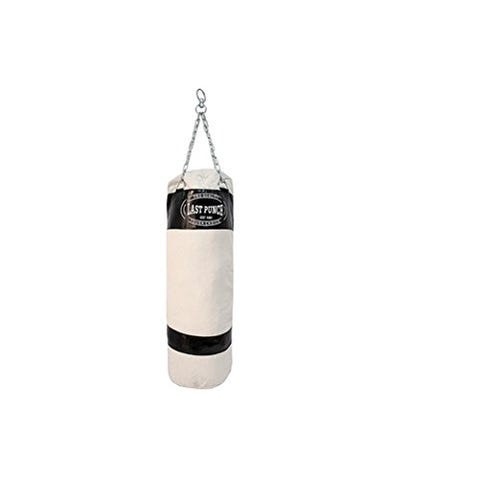 Lastworld
amazon.com
$27.99
SHOP NOW
Punching on a budget? This canvas bag comes cheap, but it can still take a beating. Just provide the filling before you knock the stuffing out of it.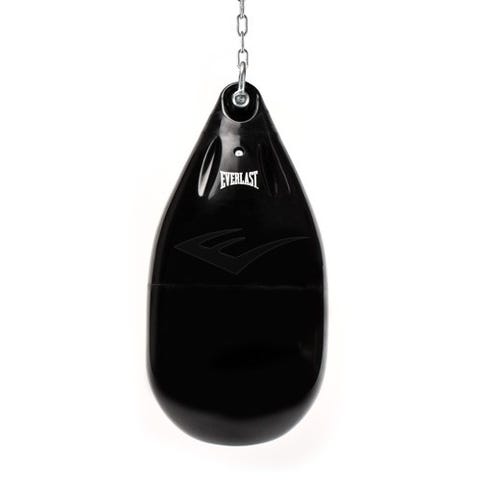 $149.99
SHOP NOW
This next-gen heavy bag is made to absorb contact, which isn't surprising since it's filled with water, not foam. Hang it, fill it, and get to striking.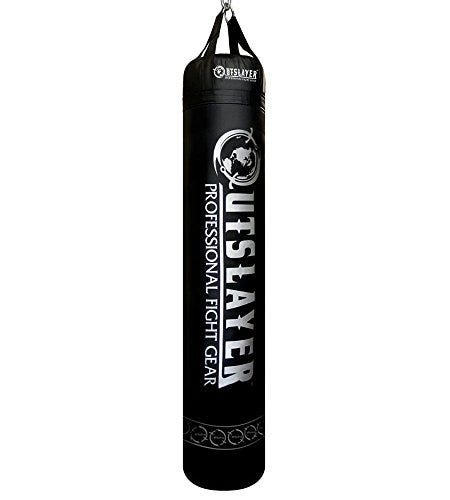 Outslayer
amazon.com
$156.00
SHOP NOW
This fabric-filled 6-foot monster is not for casual jabbers—only consider this bag if you're really set on giving fight training your all. The vinyl construction should hold up, though, since there's a 10-year warranty.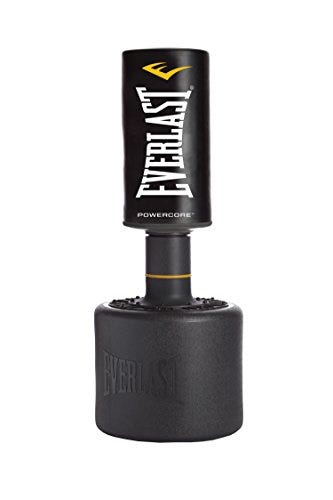 $131.73
SHOP NOW
No sturdy ceiling mount for your heavy bag? No problem. This free-standing unit from Everlast can stand up to a beating, and you can adjust the height to make your punching even more efficient.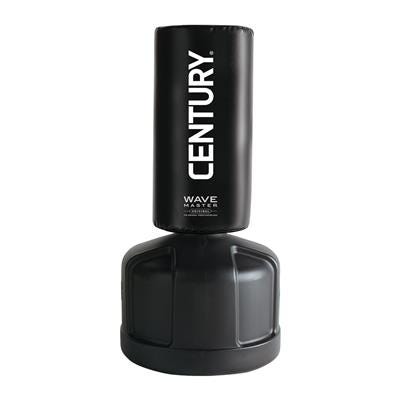 century
centurymartialarts.com
$149.99
SHOP NOW
The OG freestanding bag allows you to train your punches and kicks without taking up too much space in your home. Fill up the base with water or sand to weigh it down, then start hitting.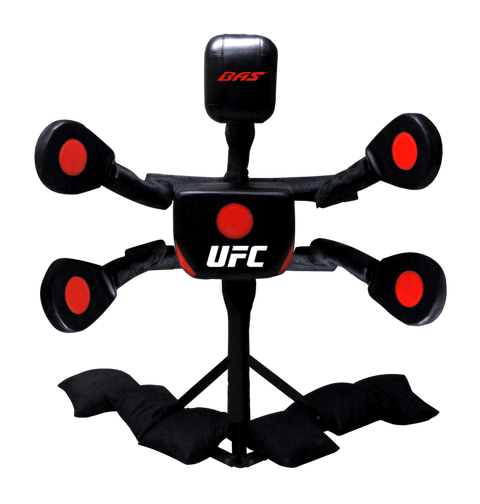 $559.99
SHOP NOW
Take your home fight to the next level with this pad system developed by MMA legend Bas Rutten. Pads represent an opponent's head and torso, while attachments allow you to hone your hooks and uppercuts with more accurate placement to simulate sparring.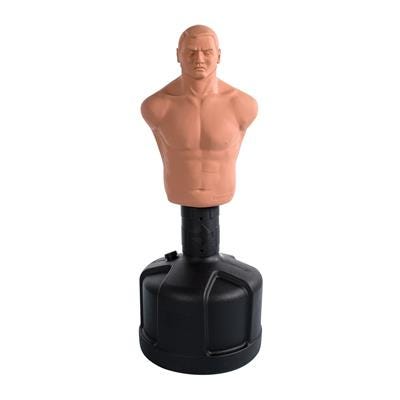 $289.99
SHOP NOW
We would never advocate that you take a swing at anyone—other than BOB here. This freestanding bag is molded to look like an opponent so you can have a more realistic boxing experience.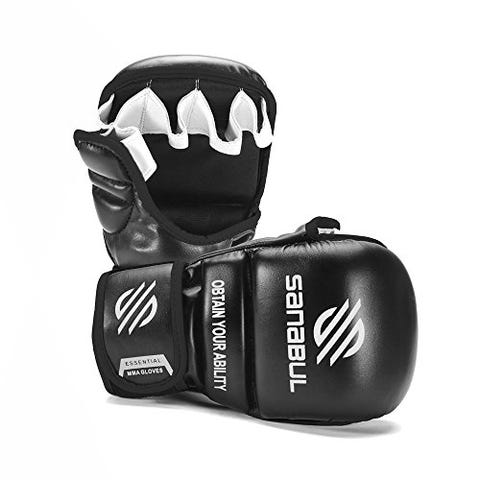 $39.99

$19.48 (51% off)
SHOP NOW
Free up your fingers with these MMA-style sparring gloves from Sanabul. There's still enough padding that you won't mess up your knuckles when you attack the bag, while the lock-down velcro system keeps the fit tight.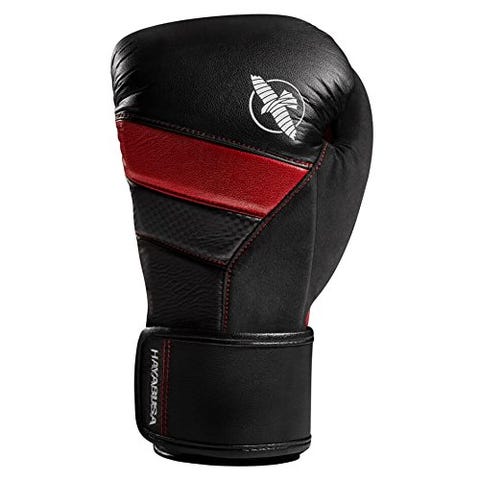 Hayabusa
amazon.com
SHOP NOW
These high-quality gloves from Hayabusa will protect your knuckles and support your wrist while you're throwing hands at home. A dual-strap closure ensures a snug fit, while multiple layers of foam absorb the impact.
Source: Read Full Article